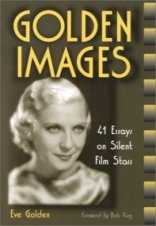 CONTENTS
Editing for Psychoanalysis
Eve Golden, M.D.
My Evil Twin
Punctuation Vindicated: I don't know why people hate it so much that punctuation matters. It practically kills some folks that punctuation is one of the most important tools we have for conveying complex ideas. It does for English what inflection does for Latin, what syntax does for German, and what changing the first letters of words (and you thought a few measly semicolons were bad!) does for Scots, Irish, and Welsh. Some day I'll publish my correspondence with Steven Reisner on this subject; he is one sharp guy, but a very tough sell in the hyphen department. Until then, will hyphen skeptics and the punctuationally challenged please take note:

If you leave out the hyphen in my URL
you will be transported to a parallel universe—
the website of my Evil Twin!

Who was that lady I saw you with last night? This broad is smart, funny, charming to the max, and as foxy as they come. Yeah, and she calls herself Eve Golden, too. So naturally people confuse her with me and fall prey, all unknowing, to her wiles. But keep alert and you won't be fooled. That Eve doesn't even punctuate her own domain name—proof positive that she's somebody else.
She thinks projection has to do with optics, if you can believe that, and the very idea of a blank screen makes her gnash her teeth. As far as she's concerned, Freud blew it the minute he turned down Samuel Goldwyn's offer, and the etiology of character defects is lousy acting, not empathic failure. By her, anamnesis means biography—and she's published quite a lot of that, all under my name, so if she starts asking you personal questions be very, very suspicious.
One more clue. Eves are preoccupied with femmes fatales. We just can't help it. I've found my inspiration in Vienna (except for hard-hearted Hannah, the vamp of Savannah GA—thanks, Dad), while my evil twin finds hers in Hollywood. So if you mention Alma or Andreas-Salomé and Eve starts in on Harlow or Theda Bara, she's not me, and you'd better start hunting for that hyphen key—it's just to the right of the zero—at once.
What does it all mean? Is she me? Am I her? Are we each other's shadows, or separate entities altogether? Which matters more, psychic reality or external reality? Is there a verifiable external reality at all? Have she and I co-constructed the only reality we (or you) can ever discern? And what about Art? Damned if I know. But hey—it's her fault, not mine, because that's what evil twins are for. If you're interested in film history, check out her (my? our?) website at www.evegolden.com. Leave out that hyphen just once and you'll never look at punctuation the same way again.